How does an IPA engagement work?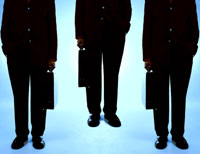 Prior to developing a client's strategic tax plan, IPA's Tax Consultants perform an in-depth review of a client's financial and tax situation. A Project Manager and a Tax Consultant examine revenue sources, current tax planning, prior years' filings, communications from revenue agencies, and business goals and structure.
What if I am delinquent with the IRS?
In the case of taxpayer delinquencies, tax assessments and tax collection matters, problems can often be resolved through face-to-face negotiations with IRS Agents or such other appropriate taxing agency representatives. Remember, Tax Agents are trained to identify and question both legitimate and questionable tax "loopholes" utilized by your professional advisors during the preparation of your tax filings. Some advisors tend to be more "aggressive" than others (when employing tax strategies). Therefore, it is always wise to utilize tax professionals to represent you and your interests when dealing with taxing authorities.